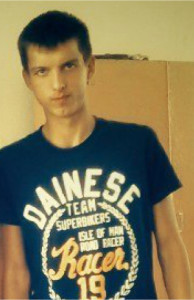 This is a guy named Aleksey.
I would have never thought that I would write about he changes occurred his life. God is at work in the hearts of the children in an orphanage!
A year ago Aleksey was a very cocky and angry guy. He wouldn't care much about anyone, and had no interest in anything other than his older comrades. Those older guys had already smoked and drank alcohol, and Aleksey was looking up to them. For 4 years he tried to avoid us when we arrived.
The older kids had graduated and Aleksey became the eldest in the boarding school. With each of our visits to the school it seemed to me that Aleksey became better but I didn't know him completely.
This time I learned about him from a different side.
During our crafts' time I started to do a face mask, out of cardboard. I noticed Aleksey sitting on the couch without an occupation. I asked him to help me make masks and Aleksey eagerly agreed. Aleksey helped others… and I was surprised that Aleksey helped others! The seniors never showed any desire to do crafts because it was considered a female occupation. But Aleksey was not only rich in creativity, he also helped younger children in their crafts.
Later on, I asked Aleksey to guide our new team members through the school. He did a great job! Moreover, he even helped us gather the children and much more. At the end of camp, I would say that he became a part of the team!
There was a time when we prayed, and I noticed Aleksey standing with his eyes closed whispering something. I could not believe my eyes. The rough and uncouth young man was gone. I saw before me a simple guy, who prayed to God. During the break, Aleksey came up to me with a friend, and said that he needed my advice. He asked for my advice which was vital in determining a situation that almost no one knew. I was struck by the fact that Aleksey wanted to share with me his secret and asked me what to do.
Serving in such institution makes me realize that elder children do not come to ask advice without a reason. I can say that the work was carried out with this guy for a year and this camp has made us friends. We talked to him about God, and I saw interest in his eyes.
God changed this guy. For me, this situation with Aleksey is a great testimony that everything is possible with God!
Pastor Dima